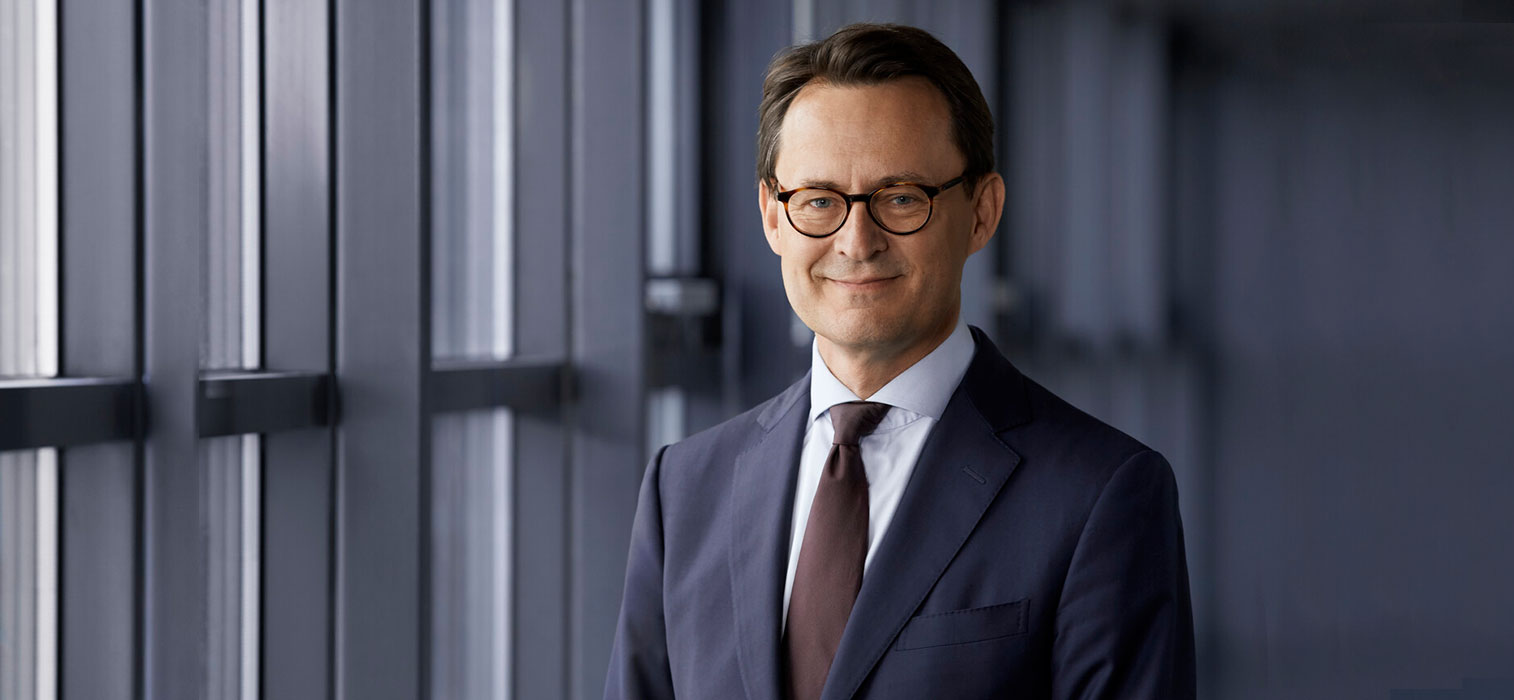 Our CEOs view on the business
"I am fundamentally optimistic about our future. Coloplast is a long-term growth company."
Dear shareholders,
At Coloplast, we work to make life easier for people with intimate healthcare needs. By listening to the people who use our products – users as well as the nurses and specialists who care for them – we get a better understanding of their needs and challenges. That knowledge inspires our innovation. This approach has brought us close to our customers. It has allowed us to deliver pioneering products and made us one of the best performing medical device companies in the world. We're very proud of that. But we have more work to do.
This year year, I am proud to say that we helped more than 2 million chronic users. Our key focus has been to keep our employees safe, continue to serve our customers and maintain business operations.
As we enter a new financial year, the world is still experiencing disruptions as a result of the global pandemic and its long-term effects will continue to impact us. But I am confident that the pandemic will also have lasting positive implications. I am fundamentally optimistic about our future. Coloplast is a long-term growth company. We operate in attractive underlying markets growing 4-5% driven by demographics, increasing health care standards in emerging markets and innovation. We continue to build the consumer healthcare company of the future with a strong commercial model based on category leadership through innovation, strong partnerships with clinicians and a large-scale direct-to-consumer setup. The pandemic has validated our model.
COVID-19 has accelerated digital trends
What we have witnessed over the past year is an acceleration of the digital transformation and we will not run our company the same way again. Triggered by the pandemic, healthcare professionals have been profoundly impacted by the shift to remote work, our employees found new ways of working and consumers became reliant on strong digital offerings. Coloplast has responded in turn and invested in digital tools, data security and artificial intelligence that will help us excel in a more digitised environment.

Solid 2020/21 results
Despite COVID-19, we delivered a strong set of numbers with 7% organic growth, 33% EBIT margin before special items and 45% return on invested capital after tax (before special items). COVID-19 had a large impact on our chronic care business, but on a positive note, the growth in new patients is recovering. Our smaller business areas, Interventional Urology and Wound & Skin Care, made a strong recovery this year as elective procedures and hospital activity resumed. Across all business areas we once again gained market shares. The strong EBIT margin was supported by the successful execution of our Global Operations Plans. We continued to invest in innovation and commercial growth initiatives, in particular in the US and China, as well as digital initiatives. Importantly, our employees remained engaged and our most recent employee engagement score was again above the benchmark.
Strive25 – Sustainable Growth Leadership
Last year, we announced our new strategy, Strive25, with a clear emphasis on growth and innovation, US and China. Growth will be fuelled by incremental investments of up to 2% of revenues annually in innovation and commercial initiatives across all business areas. We will also actively pursue M&A opportunities to build growth options. A few highlights from the first year of Strive25:
First, innovation. We aim to set the standard of care in the categories we compete in. With user needs at the centre, we have made progress on our Clinical Performance Programme in Chronic Care. The programme marks the start of an important transition to outcome-based innovation, which forces us to think differently and which will be key over the next decade as our healthcare ecosystem becomes increasingly value based. We need to demonstrate value to wider sets of stakeholders including consumers, clinicians and not least payers. Clinical evidence, data and demonstrating value will be critical.
In Wound Care, we have strengthened our product portfolio with the launch of Biatain Fiber. In Interventional Urology, we have taken steps to build new growth options into the pipeline through the acquisition of Nine Continents Medical, an early-stage technology company within the overactive bladder market.
Second, growth. It has been a tough year for healthcare systems. Despite challenging market conditions, we made key progress on our commercial growth agenda. In Chronic Care, we seek to continue to drive growth above the market with a strong contribution from our US and emerging market regions. In the US, we achieved a key milestone by securing access to the largest Ostomy GPOs. In China, we have initiated a large project with hundreds of ostomy nurses aimed at raising standards of care for ostomy users. In Poland, reimbursement for hydrophilic catheters has been significantly improved for adults and children with neurogenic bladder and is now on par with the European standard of care. This important step forward will help thousands of people to lead more dignified lives.
Our new strategy is supported by key growth enablers, including Efficiency, People and Culture and Sustainability.
We continue to strive for unparalleled efficiency and industry leading margins. Our ambitious 3-year Global Operations Plan 5 is off to a solid start. Our extensive automation programme is on track and our first volume factory in Costa Rica opened this year. Our second volume factory in Costa Rica will open next year. By the end of Strive25, Costa Rica is expected to produce 25-30% of our global volumes, ensuring that we have a more diversified global production network. We also continue to see a positive scale effect in our business support organisation driven by the further utilisation of our Coloplast Business Centre in Poland. However, we also see headwinds from pressure on input costs, mainly from wage inflation in Hungary and increasing raw materials costs.
A purpose driven culture with the focus on Sustainability
At the heart of delivering on Strive25 is our people and culture. The pandemic has been tough on all employees. As societies open again across the world, we are reconnecting with our colleagues. We are united around a strong purpose, but the pandemic has led to lasting changes in how we work. To succeed in this new environment, we are discovering new ways of organising and leading, along with new approaches to recruiting, developing and engaging employees. We have also set clear goals on diversity for all leaders in the company. We all need to make this a priority.
I am very pleased to release this year's Sustainability Report together with the Annual Report. Last year, Coloplast made Sustainability an enterprise theme. We have set a number of ambitious targets to support the UN Sustainable Development Goals and to reduce emissions from Scope 1, 2 and 3 in line with the Paris agreement to limit global temperature rise to 1.5°C. By submitting targets for validation to the Science-Based Targets initiative, we have increased transparency across our entire value chain. Our environmental sustainability initiatives are supported by investments of up to DKK 250 million over the strategy period. We are acting now.
Despite a challenging year, I remain optimistic about our future which holds many opportunities for growth. I want to say thank you to all the employees at Coloplast for your continued commitment to build our company and deliver on our mission. I would also like to thank our customers and investors for your confidence.
Kristian Villumsen
President & CEO