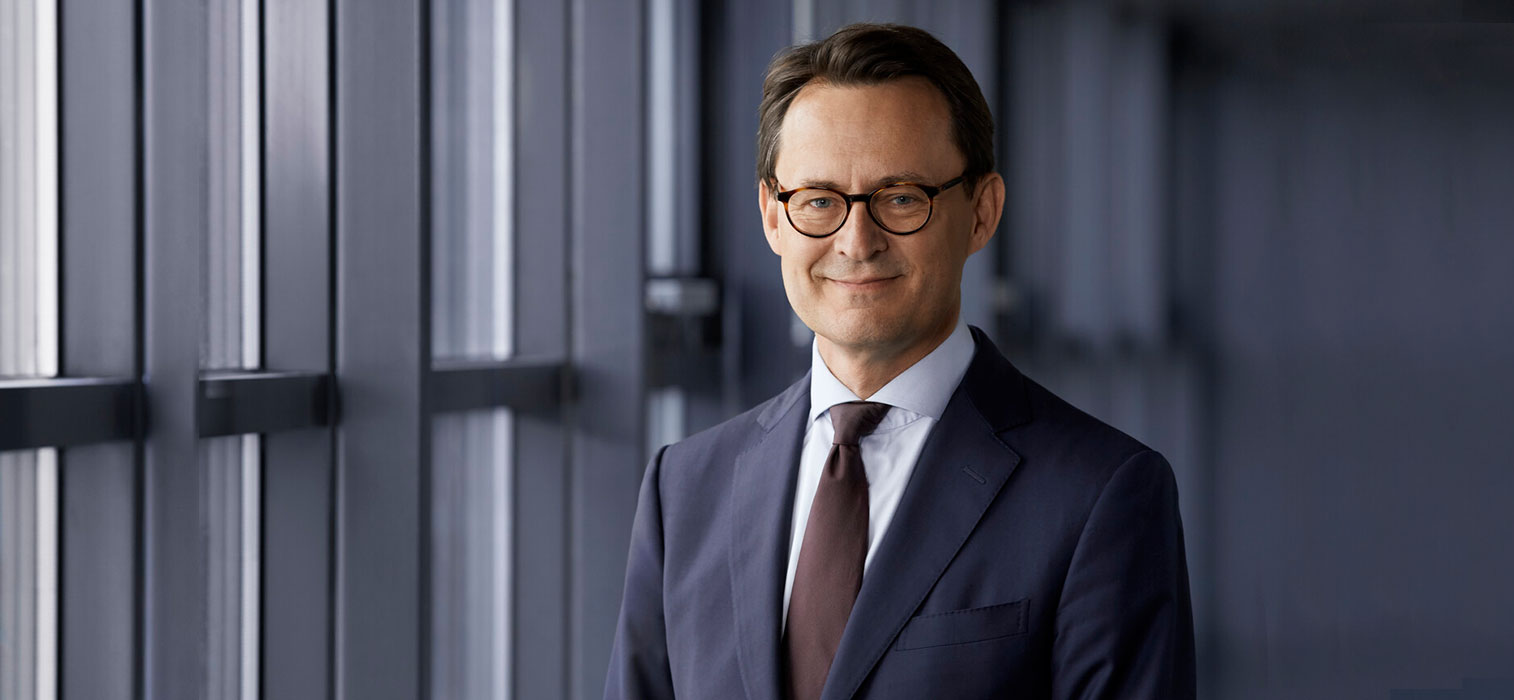 Our CEOs view on the business
"Strive25 will drive value creation through Sustainable Growth
Leadership with a clear emphasis on Innovation, US and China."
Dear shareholders,
This year has been one of the most challenging years in our company's history. As this year draws to a close, I feel proud and optimistic about the future. I am proud of how our company and employees have managed the impact of COVID-19. Optimistic about our future which holds many opportunities for growth.
Few anticipated the severity and speed with which COVID-19 impacted the global population in early 2020. Through strong global crisis management, we swiftly put all the necessary measures in place to keep our people safe, continue to serve our customers and maintain business operations.
I would like to thank everyone in the company for assuming this responsibility.
I also want to express my gratitude to our clinician partners for their dedication to serving patients during this challenging time.
There are many stories to share. In March, our home distribution business in Italy was able to get products to users in areas under full lockdown. Coloplast donated Comfeel® products to health care professionals to wear under face masks to prevent pressure injuries.
Practically overnight, following the outbreak, we set up our consumer teams remotely from home and we have been able to service and talk to our end-users exactly like we did before the outbreak. At the height of the pandemic, around 6,000 employees found effective new ways of working from home.
At Coloplast, we are building the consumer healthcare company of the future. We have built a model that reaches users at scale. Through Coloplast Care & Direct to Consumer, we are present in over 30 countries with a consumer setup. We make more than 3 million calls with consumers a year and now have around 2 million consumers in our database. We have direct distribution in our five largest markets. Through the COVID-19 crisis, this robust set-up allowed us to continue to engage in dialogue with consumers and secure product delivery. At Coloplast we have built one shared infrastructure, one ERP system and one CRM system, which allowed us to act fast and remotely, maintaining service levels throughout the busiest days our company has ever seen.
I remain fundamentally optimistic about the future. Coloplast is a growth company with a long-term view. We operate in attractive underlying markets growing 4%-5% which is driven by demographics and increasing health care standards in emerging markets. We continue to see numerous growth opportunities across business areas and geographies.
The COVID-19 crisis will pass and we aim to emerge as a stronger company. A key priority this year was to deliver the final year of our LEAD20 strategy and develop a new strategy for the company.
We can firmly conclude that our LEAD20 strategy has successfully delivered revenue growth, earnings and cash returns. This year, we delivered 4% organic growth, a 5% increase in EBIT and a 46% ROIC. In a very challenging year, these are respectable numbers.
With user needs at the centre, we have launched innovative products. However, users still face challenges, which is why we initiated our Clinical Performance Programme in Chronic Care. We have made progress on key technologies and run clinical studies, but we still have more work to do in the next strategy period before these products are ready to launch.
A key milestone for me this year was engaging with our organisation and the Board of Directors in our strategy process leading up to the announcement of our new strategy Strive25 in September. Strive25 will drive value creation through Sustainable Growth Leadership with a clear emphasis on innovation, US and China.
We continue to set ambitious targets for long-term value creation through revenue and earnings growth. Strive25 will deliver 7-9% organic growth p.a. and an EBIT margin of more than 30%. The strategy will be backed by annual incremental investments of up to 2% of revenues in innovation and commercial initiatives to fuel growth and sustain long-term competitive advantage. We will also actively pursue M&A opportunities to build growth options.
To deliver on Strive25, we have set ourselves up differently. We have welcomed two new members to the Executive Leadership Team, Nicolai Buhl Andersen and Camilla G. Møhl, strong leaders with strong followership who will drive our important Innovation and People & Culture agendas.
Innovation is at the centre of the strategy – over the next five years, we aim to deliver on the Clinical Performance Programme in Chronic Care, continue to deliver new products within existing technologies and build more options in the pipeline.
In Chronic Care, we seek to continue to drive growth above the market and we are aiming for a stronger growth contribution from our US and Emerging market regions.
We are fully committed to investing in and scaling our interventional urology and wound & skincare businesses. Interventional Urology has delivered solid growth, but it needs a revitalised pipeline. Wound & Skin Care performance has improved but we need to drive profitability.
We continue to strive for unparalleled efficiency and industry-leading margins. We have initiated an ambitious 3-year Global Operations Plan 5. The key focus for the new plan is automation to secure a neutral FTE development in blue-collar workers over the period. Two new factories will be finalised in Costa Rica during GOP5 creating a more diversified and robust global production network.
Our new strategy will be supported by key growth enablers including Efficiency, People and Sustainability.
We also expect to continue to see a positive scale effect in our business support organisation driven by further utilisation of our Coloplast Business Centre in Poland.
At the heart of delivering on Strive25 are our people and culture. We have a strong start on employee engagement and talent promotion that we strive to maintain.
I am very pleased to release this year's Sustainability Report together with the Annual Report. Coloplast has reached its 2020 targets to increase the use of renewable energy, recycle more of our waste and increase the diversity of our management.
Helping more people with intimate health care needs presents a dilemma because it means making more products, and therefore, potentially increasing the impact on the environment. We embrace that challenge and have set new ambitions for our sustainability efforts to support the UN Sustainable Development Goals and the Paris Agreement's goal to limit the global temperature increase to 1.5 degrees.
Our new sustainability strategy places a strong emphasis on improving our environmental performance by reducing emissions as well as improving products and packaging. At the same time, we reiterate our ongoing commitment to responsible operations. We will invest up to DKK 250 million over the strategy period to support our new sustainability strategy.
A sincere thank you to all our users, shareholders and the employees at Coloplast for your passion and dedication each day to build our company and deliver on our mission.
Kristian Villumsen
President & CEO